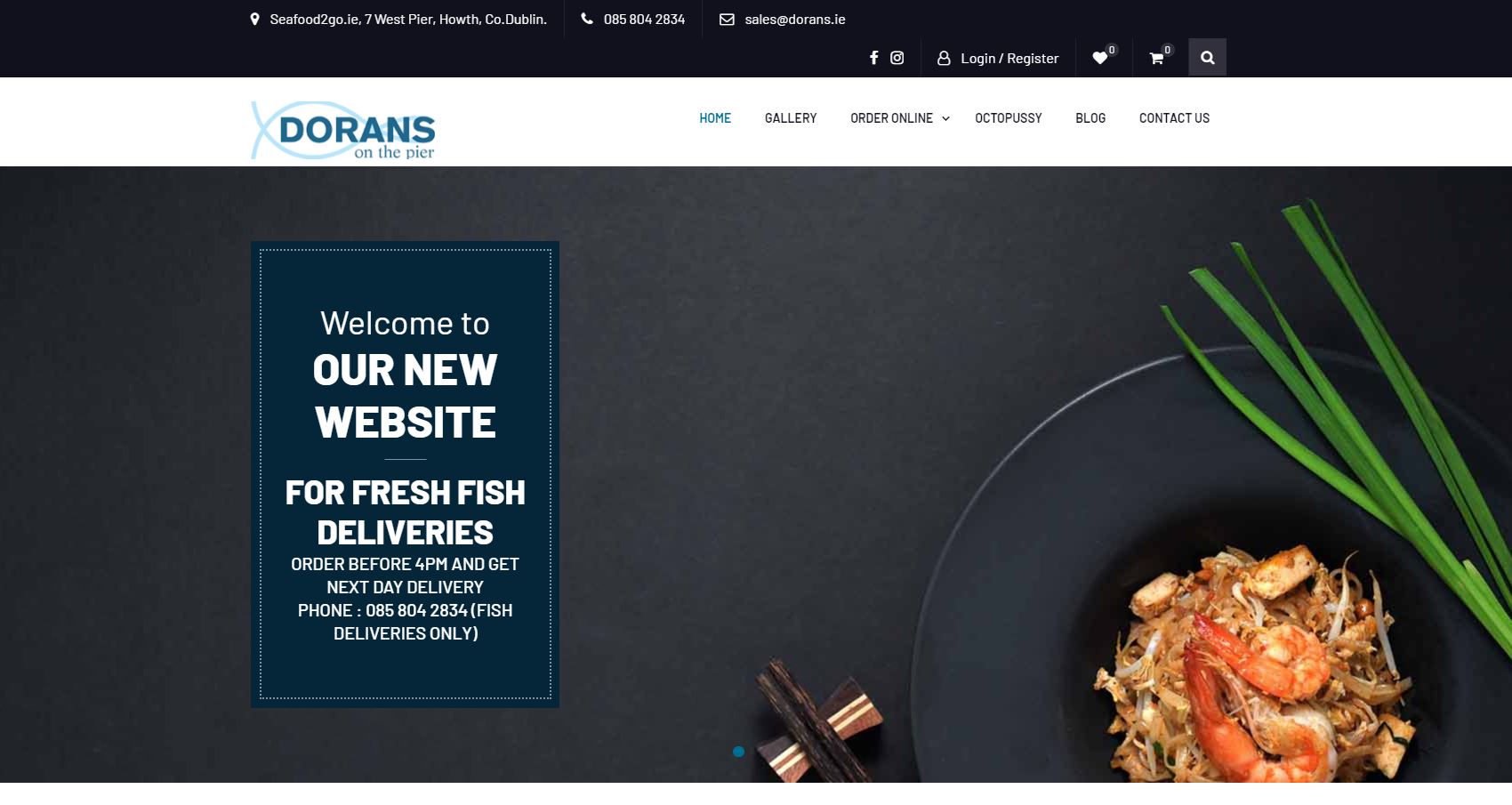 Doran's On The Pier is a family owned institution based on the West Pier in Howth. Founded over 60 years ago and now owned by the founder's son, Sean Doran, they have supplied the highest quality fish in Dublin through their fishmongers, restaurants and now online through Seafood2Go.ie.
During DataDyne's early days, over 7 years ago, Sean Doran and Seafood2Go were one of our first web clients, and continue to be one of our favourite clients to work with. At that time, we used an easy to edit simplified content management system, which all parties were happy with. The first few months went very well and steadily continued to do so for a number of years.
Fast forward to 2020, with the current Covid-19 restrictions in place, Sean needed to push online sales, which needed to increase due to the lockdown. After discussing options available to Sean & Doran's, we decided to launch an entirely new site, based on the principle of user experience. After reviewing the analytics and anonymised user data, the design and development team at DataDyne was able to create an accurate profile of Sean's biggest customers and therefore tailor the site specifically to this user group.
We worked together with Sean and his team in Howth with the idea of creating a "mobile first designed" website. This would have a "3 click policy", meaning, from the moment you land on the site it would only take you 3 clicks to find the product you are looking for and then checkout. The turnaround time for developing the new website was 2 weeks and we seamlessly shifted over from the old site.
After some small alterations & to ensure Sean's restaurant Octopussy could allow for orders to be also processed, the results speak for themselves, as we have now seen a jump in both site visits (up 60%) and orders processed (up 40%), in comparison to the last 30 days of the old website.
All parties involved in the design & development of the seafood2go site are very satisfied and are planning to further develop the site to allow for customer profiles,logins, wholesale discount accounts, and an Android/iOS mobile application in the coming months.
Transforming a long standing family business into a modern day ecommerce business, has proven to be beneficial to Doran's, West Pier Howth, Curry Supply Company and the fishing community of ireland. Thanks to Sean & Doran's, DataDyne is delighted to be able to offer a 10% discount of all products on the new Seafood2Go website, using the code DataDyneDiscount at checkout.
We will be doing a monthly update on the progress of this project, so stay tuned for the second installment Seafood2Go, the Digital Fishmongers in our "From the Ground Up" series.
Stay Safe, TheTeam DataDyne